How will my fiberglass pool be loaded and transported?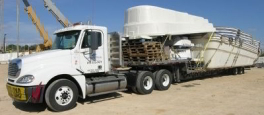 Moving a large fiberglass shell requires expertise and significant care to ensure the swimming pool arrives at its final destination in the same condition it left the factory.
The first step in your pool's journey is to be loaded and shipped from the factory to our distribution yard. We often joke that we are a transport company that happens to build pools.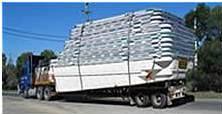 This is because freight and transport is such a large piece of our business and must be carefully controlled to continue to make fiberglass pools more competitive in the residential swimming pool industry.
How do we do it?
All of our swimming pools are designed so that they stack within each other like solo cups. This stacking is called nesting, and allows us to ship up to 12 pools on a single truck minimizing the freight cost per pool. To move a truck load of fiberglass pools with two escorts across the country can cost $9000 to $11,000. If there are 12 pools on that truck the freight cost can be as low as $750 per pool. Compare that to only putting 1 to 3 pools on a truck like other manufactures, and you can see why fiberglass pool shipping CAN BE $4,000 to ship a single pool.
Why it matters...

This efficiency is a result of careful fiberglass pool designing to ensure compatibility of pool shapes, not only within a particular range but also within the rest of the line. This cost saving allows us to build far superior inground pools using better components and raw materials and still be competitive to lesser quality pools. Imagine if BMW was able to compete on price with a Toyota strictly through creative freight...that's effectively what we have done. It's sort of our secret weapon. Best of all there is nothing other manufactures can do about it.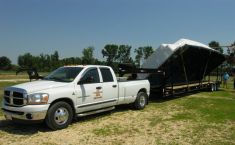 Their pool models and molds already exist, and it doesn't make financial sense to start the designs over.
From us to you
The last leg of your fiberglass pools journey is from our distribution yard in Columbus Ohio to your home. In MANY ways this is the most complicated and dangerous part of the transportation. Smaller local roads, intersections, and city freeways all present risks and challenges that cross country multilane interstates do not. To help mitigate these risks and to smooth the process we have purchased specialty built trailers to haul your pool. Depending on the size and type of swimming pool they will often come on a 'tilt trailer' either in an upright or upside down position. It takes a lot of specialized equipment and staff to handle our own deliveries. This is something unique that nearly no other dealer nationwide does. We do this so that we can control the timing of the installation and insure the pool is properly cared for during this last and most delicate leg of its trip.
---
1605 Shawnee Ave, Columbus, OH 43211 | Columbus
(614) 890-7665
Copyright Luxury Pools and Living 2005-2023