Retractable Safety Pool Covers
Retractable pool covers come in two basic versions. 'Automatic' and what we call 'manual' or 'semi-automatic' covers. Both offer as the name implies, a barrier over the swimming pool and an added element of safety. They both can be walked and even jumped on. Both will keep whoever or whatever from going into the pool.
The most common questions people have is 'can you walk on them?' and or 'how strong are they?' The video to the right should answer both.
Automatic Covers: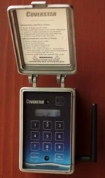 Automatic covers are the most common type of retractable pool cover. It has its own drive mechanism and operates when the key switch (or keypad) is switched into the 'open' or 'close' position.
The cover drum and motor can be in the ground or mounted on the deck. Typically, on a new installation the vault (hole where the cover and motor goes) is almost always underground. This is not only for aesthetic reasons but also for traffic flow. This video will demonstrate the 'recessed' or 'deck on deck' type track system with a recessed vault.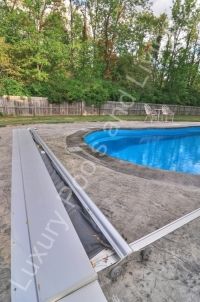 Flush Top Track
Auto covers can have a couple options on a free form pool. We call these 'top track.' The pictures below shows examples of regular top track as well as a 'flush' top track which is more or less flat with the decking.
The cost of an automatic pool cover will vary. Base price on a smaller square pool may be around $13,500, while a 'deck on deck' on a larger pool will run upwards of $17,500 fully installed.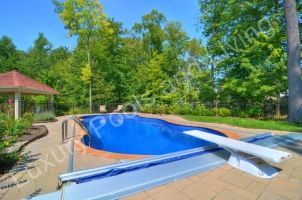 Snap Down Top Track
Manual Covers:
Equal in safety, the manual cover offers a less expensive way to gain the same benefits. Typically on a top track system, a manual cover has all the same track, fabric, sliders, and rollers that a power cover has, but it has a reel on the back side that you manually crank to open the cover.
The cost of a manual pool cover is going to be, again, based on size but will typically range from $6,000–$8,000.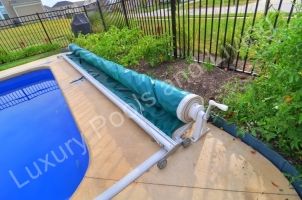 Why have a retractable pool safety cover?
Despite the name we sell more safety covers as a means to keep the pool clean and retain heat energy than actually securing the swimming pool. The addition of a retractable pool cover in Ohio will actually pay for its self in less than five years. This is based on chlorine use, cleaning expense, and most of all HEATING. Besides, isn't it more fun to swim than clean leaves from the pool?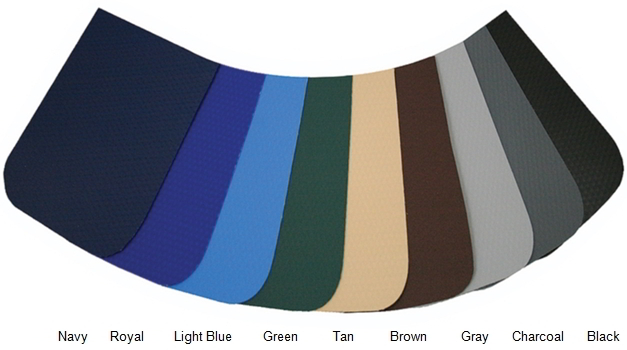 ---
1605 Shawnee Ave, Columbus, OH 43211 | Columbus
(614) 890-7665
Copyright Luxury Pools and Living 2005-2023