Safety / Anti-Entrapment
On December 19 2007, President Bush signed into law the Virginia Graeme Baker Pool and Spa Safety Act of 2007. The legislation provides incentives for states to adopt comprehensive pool safety laws that will protect children from life-threatening injuries and horrible deaths from dangerous pool and spa drains. Suction entrapment is one of the most horrific things that can happen to anyone that enters a swimming pool or spa. The deadline to comply with the law is December 19, 2008. Visit www.poolsafely.gov for more information.
To help prevent suction entrapment of swimmers and reduce facility liability, the law requires that all public (commercial) pools and spas must be equipped with:
Main drain covers that comply with the ANSI/AMSE A112.19.8-2007 testing standards.
One of the following (A-E) on any pool or spa with a single main drain, other than an unblockable main drain:

Safety Vacuum Release System (SVRS) that meets ANSI/ASME A112.19.17 testing standards
Gravity drainage system
Suction-limiting vent system
Automatic pump shut-off
Drain disablement
Note: The drain sump may also need to meet specific design requirements per the act.
As a company committed to a safe pool and spa environment, Luxury Pools and Living offers a wide selection of safety products that are designed to help eliminate bather entrapment and comply with the new federal requirements.
SAFETY VACUUM RELEASE SYSTEM (SVRS) Meets ANSI/ASME A112.19.17 standard
SKU # 15-130 VAC ALERT (MODEL VA-2000S) SVRS UNIT
SKU # 83-863 STINGL SWITCH (Model SR-500: For up to 3 HP 120⁄240 Volt 1-phase pumps)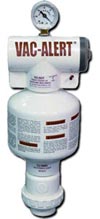 VAC ALERT (MODEL VA-2000S) SVRS
A totally mechanical, non-electric safety system, the VA-2000 is easy to install, adjust and test.
Reacts in less than a second to quickly release dangerous pump suction vacuum.
Provides a critical layer of protection against body or limb suction entrapment.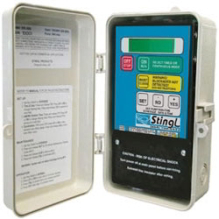 STINGL SWITCH (Model SR-500) SVRS
The only true influent blockage detection system. Handles up to 3 hp pumps.
Monitors for a safe level of vacuum.
If an unsafe level of vacuum is detected, the unit turns off the power to the motor and sounds an audible alarm.
Note: The pool or spa must comply with state and local entrapment prevention requirements. Verify that compliance with the federal law does not conflict with local health codes or regulations. See the complete standard for additional information. Please contact your local health department for drain cover selection guidance if local standards require cover velocities of 1.5 feet per second (fps) or less, or if the cover will be installed on a gravity drain system.
Your Drain is a Potential Killer
-- But It Doesn't Have To Be
Don't wait until a tragedy strikes!
Every year, too many children and adults are drowned or seriously injured when they are held underwater by vacuum suction of their pool or spa circulation system. Many people are unaware of the dangers posed by suction that can maim or kill in an instant.
Now there is a way to protect your family and friends from this tragedy...
Vac-Alert™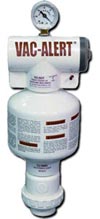 The Vac-Alert™ Safety Vacuum Release System (SVRS) is a self monitoring, non-electrical, low-maintenance safety system that responds in milliseconds to an increase in pump suction vacuum that can be caused when someone is trapped. The systems spring loaded piston reacts quickly-opening to atmosphere and releasing the life-threatening system suction.
Don't take chances with your pool or spa safety!
IS YOUR POOL MAIN DRAIN SAFE?
Virginia Graeme Baker Pool and Spa Safety Act of 2007
Drain Cover Comparison
Does your drain cover look like one of these?







The above covers are NOT ASME/ANSI A112.19.8-2007 approved.
How will I know if the drain cover I have is compliant?
The cover will have the following embossed or permanently marked in a location that is visible when installed:
ASME/ANSI A112.19.8-2007 or ASME/ANSI A112.19.8a=2008 certification
"For Single or Multiple Drain Use", "For Single Drain Use", or "For Multiple Drain Use Only".
Maximum flow rate in gallons per minute (gpm)
"Wall Only", "Floor Only", or "Wall and Floor" installations
Cover life (Example: 3 years)
Manufacturer name or registered trademark
Model designation
The law requires ASME/ANSI A112.19.8-2007 approved drain covers (all public pools and spas) and a *Safety Vacuum Release System (SVRS) for all public swimming pools and spas with single main drains that can be blocked. The drain sump must also meet the specific requirements of the act. As noted in the complete act, the compliance date for all pools and spas to meet the requirements is December 19, 2008. For more information, please visit www.poolsafely.gov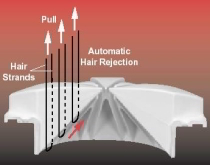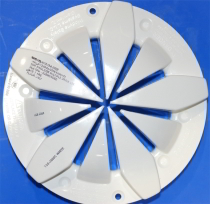 ---
1605 Shawnee Ave, Columbus, OH 43211 | Columbus
(614) 890-7665
Copyright Luxury Pools and Living 2005-2023