Why Zero / Beach Entry Fiberglass Pools Don't Make Sense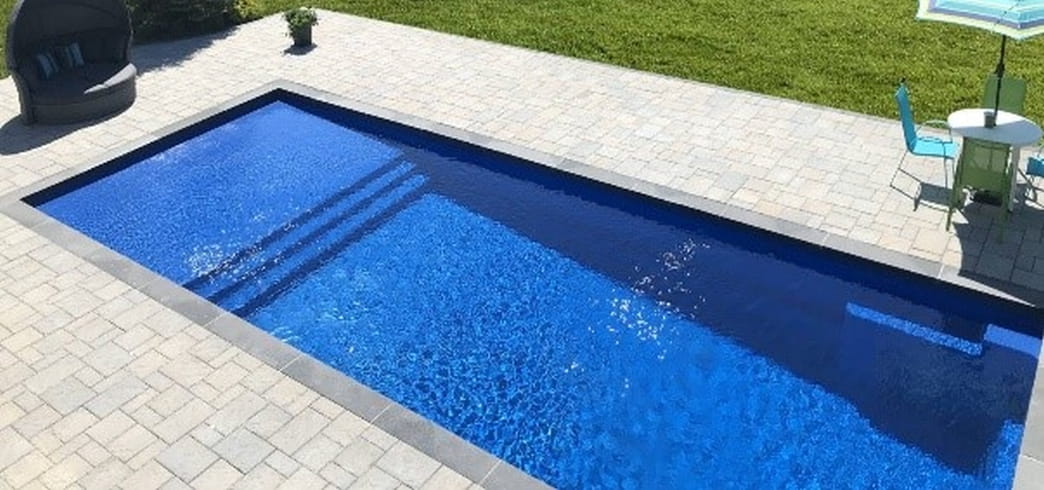 Over the last several years fiberglass pool manufactures have responded to client demand and pushed the limits of splashpads and integrated tanning ledges. This has ultimately evolved into the zero or beach entry design. These zero / beach entry pools look great and it's easy to see yourself laying there in a few inches to a foot of water taking in the sun and enjoying an umbrella drink right? Of course!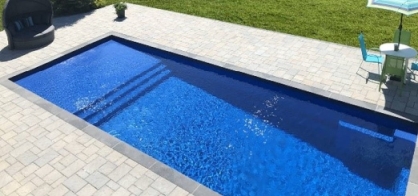 Despite how cool they look, do they make sense? Perhaps not. We have installed many beach entry fiberglass pools. Clients are excited to design, order, and even more excited to see them go in but that eventually fizzles out. The truth is – A beach entry fiberglass pool is a waste of space and a bad financial deal. They cost more to buy and install and provide less pool space for your budget.
One of the most popular beach entry fiberglass pools is the Palm Beach Zero 35. It is 35' in length and has an 11' entry pad. Including the full width steps, you have sacrificed 14' of pool space before you get to the POOL SPACE! The Palm Beach Zero is also offered in a 40' model and proportionately you loose the same one third of the pool.
The draw to a beach entry is of course the tanning and 'hang out' space and an area for little kids to enjoy. That happens, but not for long. Most young kids wear floatation devices and find there way to the 'Real Pool' quite quickly. Remember, littles are not little for long. Adults may tan, but end up moving to the main pool to cool off and then back to a lounge chair for real tanning and repeat.
In addition to the beach entry pool taking up pool space, they can become slippery, overheat the pool water, become a birdbath, are more susceptible to scaling, can lack proper water flow and chlorination, don't allow for volleyball or games, and are finicky to install for a less than expert crew. Again, cool, super photogenic, and a great theory, but will you spend a third or more of your time on beach area? Most will not.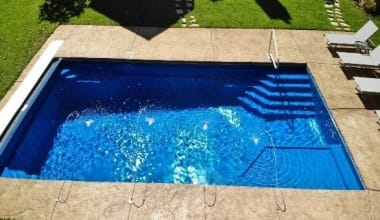 The ideal depth for pool tanning is about 10" while on your back with a pool pillow. If you plan to keep the toddlers confined to the space, when they sit on their bottom, they will be submerged to the tummy in that same 10" of water. Several of our models are offered with an integrate tanning ledge built in for two adults and several toddlers if you needed. The best part is that these integrated tanning ledges accomplish the tanning and toddler mission without consuming a large section of your pool.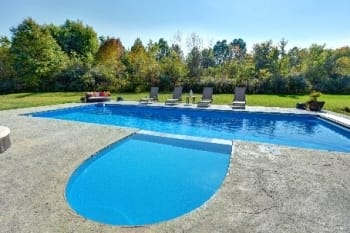 If you need more tanning area than what an integrated ledge has to offer but don't want a zero, consider a separate tanning ledge that connects to the pool. They are available in square and horseshoe models, offer a lot of space for the money, and are design friendly. They will dress up ANY poolscape and represent a huge value.
---
1605 Shawnee Ave, Columbus, OH 43211 | Columbus
(614) 890-7665
Copyright Luxury Pools and Living 2005-2023