Underground Utilities - Damage and Repairs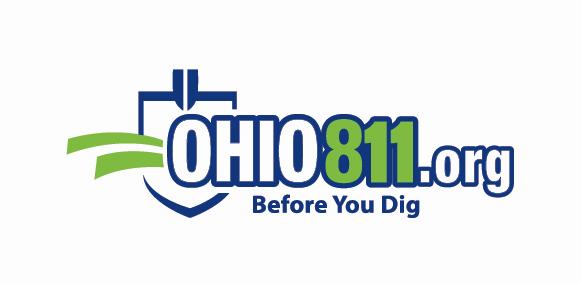 While installing swimming pools it is not uncommon to hit or damage underground utilities such as internet cable, cable TV, phone lines, and of course down spout / sump pump pipes that go to the street. Though we do our very best to work around those items, more often than not there is damage that will need to be addressed.
It is the law to call OUPS (Ohio Utilities Protection Service) 72 hours before any excavation takes place. When OUPS is notified of an excavation they notify all the utility companies that are listed as having lines in the work area. Those cable, phone, and electric lines are marked by location services that are hired by that utility company.
Just because the lines are marked that does not mean that marking is the exact location of the line. It is pretty typical to see lines mismarked by 5' but we have seen line markings be as far off as 15'. We also see markings we request during the design phase of a project be completely different from the markings as we begin construction. These discrepancies are a result of poor work being performed by marking technicians and in some cases technicians marking old or abandoned lines and not the current 'in service lines.'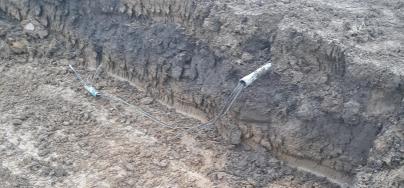 When a cable or phone line is hit and damaged it is usually because it is in the way of the in-ground pool or mechanical trench. In almost all cases the lines are buried just below the sod and guaranteed to be hit or damaged as we are not able to 'dig them out' by hand. Even if we were able to find them there is no way to save or salvage them, and they will just simply need replaced.
Up until about the last year cable companies would simply install a new line at no cost. More recently however we are seeing about half of the lines needing replaced come with a bill. Even from the same providers. Sometimes they bill sometimes not. That bill is usually sent to the homeowner but sometimes to us. If we receive a bill we will forward to you.
When an electric line is hit that is a more serious and complicated mater. When we design your inground pool space we have the lines marked so that we know what we have to work with around the fiberglass pool. If the electric markings are completely wrong it is possible to have an electrical wire in the pool area and in the way and not know it until we dig the hole and hit it. We have had electric lines be mismarked by over 10'.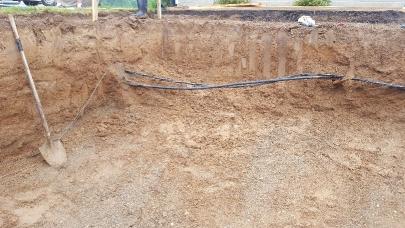 When this happens the electric company is notified, and they will come out and fix the line at their discretion. Sometimes that means a temporary line is installed from the transformer to the house and plans will need to be made for the new permanent line. Sometimes the site technician will perform a splice underground and be done. Sometimes there is a bill. Sometimes not. The bad news is that there is some heartburn involved and a bit of a surprise expense. The reality however is that if the electric had been marked correctly the line would have still needed to be moved. We do not cover or control any of these costs. It is 100% the electric company's discretion and estimating.
If you have private lines such as propane, geothermal, water, or electric to a barn or shed OUPS will not know about those line and YOU MUST mark them. Even if you have an idea of where you think they are please consider reaching out to your well company, propane company, septic service, geothermal, etc. and ask them for guidance on finding those lines. We will try to locate them by hand digging but damage is still possible and not an expense we cover.
Last but not least is underground gutter pipes and sump pump lines. We almost always encounter them. Particularly when we are placing filtration equipment near the corner of your home. If we run into gutter drain lines we are not permitted to fix them. This is due to our insurance company. Here's why...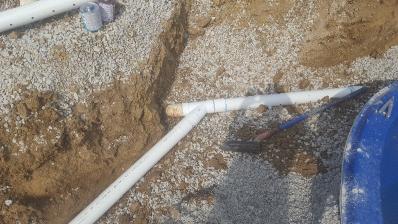 Most new homes are constructed pretty rapidly. Very often the team putting those underground pipes in are moving at a fast pace, don't check and insure proper fall, and often don't even glue the pipes together. At the same time most homeowners do not regularly clean and insure proper drainage of their gutter pipes. This means that a fair amount of homes have drain systems that are defective and no one knows about it.
A few years back we did a repair on a pipe that was connected to the customers gutter and sump pump. While we were reconstructing and putting those pipes back together the homeowner asked if we would connect an area drain from off his patio to the same line. We didn't see any harm in the request and happily made the connection. A year or so later during the wet season the line towards the street became obstructed by a nesting animal and debris. As the rain fell and the sump pump turned on the water backed up the drain on the swimming pool deck that we agreed to tie in and reconnect. That water rose up to where the water went into the in ground pool and back towards the house and into the basement. We were pulled into a lawsuit for a flooded basement and the insurance company was left to sort it out. Even if we had not connected the homeowner's patio drain the line still would have become clogged and the sump pump would have still run and backed up into the basement. Either way it was the chipmunk that clogged the pipe, but we were the last company to touch it.
It is because of this high likelihood of a current or future defect in your system that we cannot touch it. We are happy to help you find and obtain the parts and even provide them to you, but we are not permitted to actually do the connecting of the pipes. We apologize for the inconvenience.
---
1605 Shawnee Ave, Columbus, OH 43211 | Columbus
(614) 890-7665
Copyright Luxury Pools and Living 2005-2023