So you think installing a fiberglass pool is easy? So did I. Part 2/3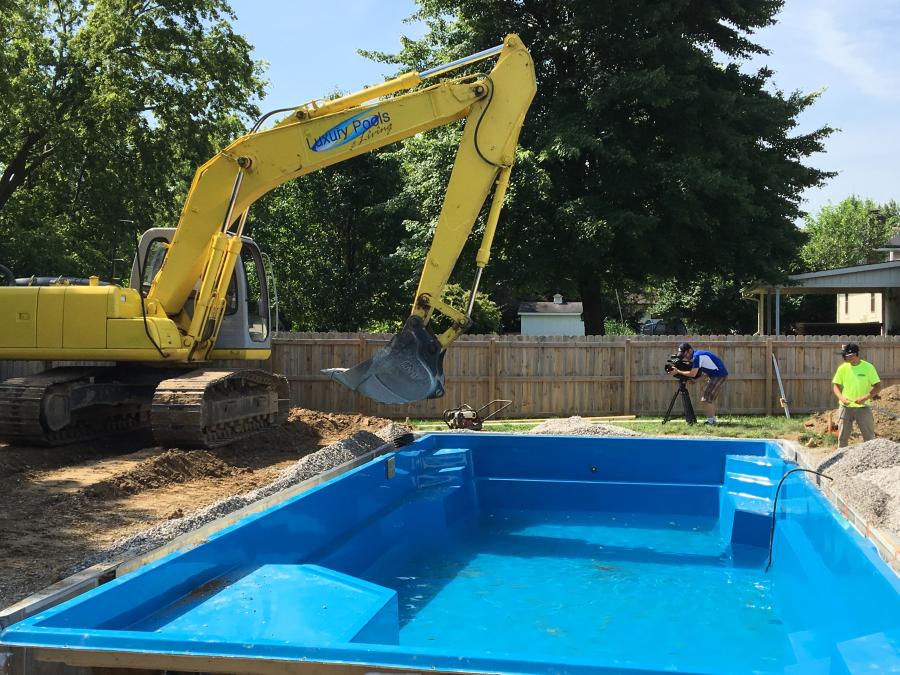 Setting The Pool

It's in the hole
Once you've got your base installed, it's time to set your fiberglass pool shell. This can vary in complexity depending on the size and type of your swimming pool as well as the equipment you're using. Small and medium pools can be set with excavators, a couple straps and a spreader bar to rig with. Smaller pools are typically stronger and easier than larger pools. The larger the pool the more delicate straight walls can be. When I say delicate I don't mean that a shell may break or crack. The concern is cracking the gel coat (color layer) of the swimming pool from rough handling or blunt impacts. This is possible on any fiberglass material when the structure is flexed more than the gel coat is able, causing spider cracking. Spider cracking is a series of cracks in the finish that resemble a spider web on the surface. The crack is microscopic but when it collects dirt it turns black and becomes visible and is difficult to clean. When you're setting a fiberglass pool being smooth, gentle, and avoiding any blunt impacts and stress is critical. Having the right rigging, many hands, and the proper crane or machine is very important and not a place to save money. Once you have the shell going into the hole it must go in straight and flat. ANY movement in the shell while it's touching your base will affect the bed and cause high and low spots. Sliding the shell on the base is a death sentence. All of your elevations will be affected and changed. Also keep in mind that this is where we find out how well the lay was done. If the top of the shell looks unusually high or low recheck your math NOW don't move on.
Plumbing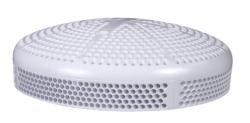 Make sure the drain covers
are VGB compliant
This is where most people start to relax. DON'T. A mistake here will haunt you forever too. I prefer to plumb and light all of my pools before they leave my shop or yard. This affords me more control over the quality and allows the glues and sealants to fully cure before it goes into the hole and is filled with water. For most do it your selfers this is not an option. The pool shows up and must come off the trailer and into the hole with a single crane rental. Laying out the suctions, lights, returns, and any jets is a little different for every inground swimming pool and install. The placement of each item must be considered for optimal circulation and lighting. Orientation of the swimming pool in relation to the wind, house, and equipment must be considered. Additional components such as auto covers, splash pads / features, and slides will also have an impact on how the plumbing is constructed. Beyond the placement considerations, installing the proper grade piping, fittings, sealants, and glues is very important. Don't use the stuff at Home Depot. Pool specific products must be used. Also be sure the sizing of pipes, pump head, flow rates, and water velocity are calculated. Over and under plumbing a swimming pool is equally bad not only from an efficiency standpoint but also a safety standpoint. Building codes concerning swimming pool plumbing exist to help prevent possible entrapment on drains and suctions (See VGB safety Act 2007). Sticking a 1.5 HP pump on the pool because that's what your neighbor has doesn't cut it. After sizing and calculating the system comes the construction. Improperly installing the plumbing could result in tension on lines, underground fittings, and manifolds which could mean big problems in a few years.
Backfill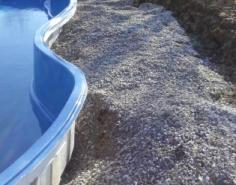 In the midwest, backfill
should be 100% gravel
The material you choose to backfill with is a big decision. Pay now or pay later is the rule. Use dirt and your destiny is certainly a complete pool failure. Sand may be cheap, but if you make a mistake and overdo it you'll bow a wall and have to dig it out as part of the installation AND go ahead and count on bowed walls in just a few years from the weight of the sand on the structure. Using pea gravel is possible but still has some risk of bowing walls. Chipped limestone is the only way to go for me. I have had to dig out and reset my fair share of swimming pools, and now I won't use anything else. Expensive? Yes. Worth it? You bet. In some ways it can be more work particularly when it comes to packing it underneath steps and seats but in the long run BEST for your pool. Most installers use sand because it's cheap, and it flows easy with water pumps (called washing in) if you use sand in a few years I guarantee bowed walls and bulges. Backfilling is an art too. The easy part is that you back fill the pool while you fill the inground pool. The hard part is knowing what order, how much, and where. When the fiberglass pool shell is in the hole empty it's not going to be exactly the right shape. Controlling straight walls, insuring fill material is under each seat and bench for support, and keeping the top of the shell level all while filling the pool can be tricky. This phase can easily get away from you. My team and I, having done it many times, can even find ourselves in race mode from time to time.
After back fill it's time for decking. Click here for part three.
---
1605 Shawnee Ave, Columbus, OH 43211 | Columbus
(614) 890-7665
Copyright Luxury Pools and Living 2005-2023