Pool Winter Safety Covers – Stock vs Custom vs Non-Safety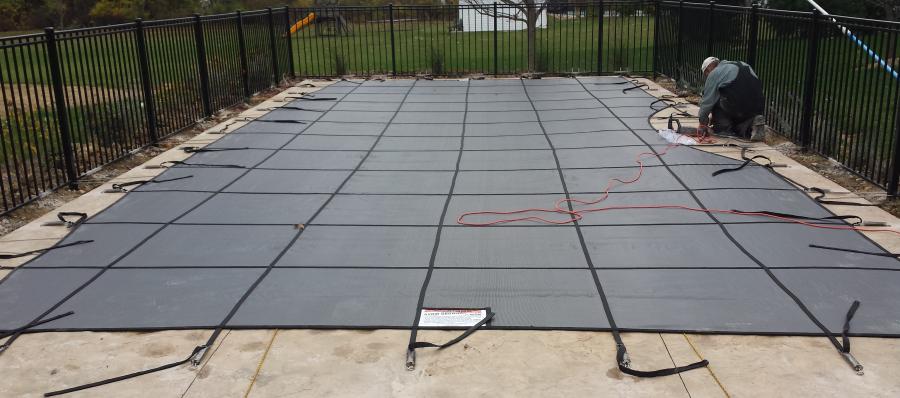 As you are putting together your new inground swimming pool and living space one of the things you will be looking at is what to do about a cover. Though on the surface this may seem like a very basic component the truth is it's NOT. There are many options when it comes to winter covers, and you will absolutely get what you pay for in each.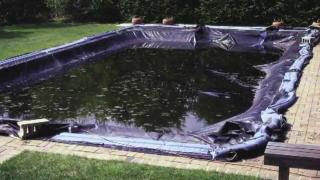 Do not use these

They are dangerous

Most price point pool companies that have "packages" typically included a cover. In MOST cases these covers are nothing more than a piece of plastic (or a tarp) and tubes with water in them called water bags. You simply cover the pool with the tarp and lay the water bags around the perimeter to hold the cover in place. These are VERY dangerous. In the event a pet or person fall into the pool with the cover on, it is unlikely the end will be anything but tragic.

The second option is a winter safety cover. These come in different grades and qualities. The basic concept of them is you cover the swimming pool with a fabric material capable of holding pets and debris out of the pool by attaching to the deck of the pool with anchors. Some people refer to them as "trampoline covers" as they very much resemble a trampoline when installed. Aside from strapping and material type the main difference between covers is "stock" or "custom."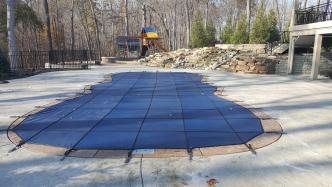 Custom Shaped Cover
A custom safety cover is as the name implies is just that- custom. It has been made to conform to the shape of the swimming pool, deck, water features, slide, etc. For a customer that has an apron that may not be more than a few feet wide, landscaping or water feature this may be the only option.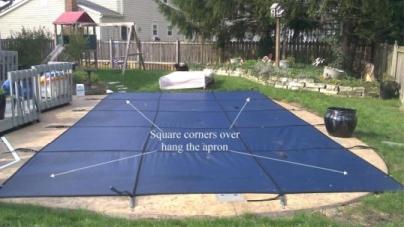 Stock Rectangle Cover
A stock cover on the other hand is a cover that has been made to a preset shape and size. Most of the time these stock size covers can be purchased for less money because there is no measuring or customizing, and they fit a wide variety of pools. Typically, they will overhang the apron more in one direction than another and may even run into the lawn a bit. So long as you're OK with the aesthetics of the stock cover it's typically a savings of $1,000 or so from their custom counterparts.
Stock or custom there is no wrong answer. Just make sure you never use a tarp and water bags. Covering and secure the swimming pool for the off season is just the responsible thing to do. Be safe and happy swimming!
---
1605 Shawnee Ave, Columbus, OH 43211 | Columbus
(614) 890-7665
Copyright Luxury Pools and Living 2005-2023