How strong is a Luxury Fiberglass Pool?

As a fiberglass pool installer I am often asked about the strength and differences of a fiberglass pool compared to concrete or vinyl. These are easy to demonstrate in layman's terms.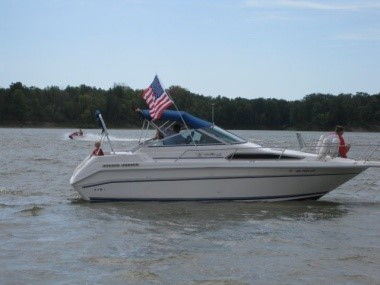 Sea Ray Sundancer
What's not so easy to demonstrate is how strong a Luxury Pool is compared to other fiberglass pools. Let's face it, you would expect any installer to say that whatever they are putting in is the strongest and the best. Right? So let's take the "other" fiberglass pools off the table and instead compare a Luxury Pool to a third party product, like say a boat!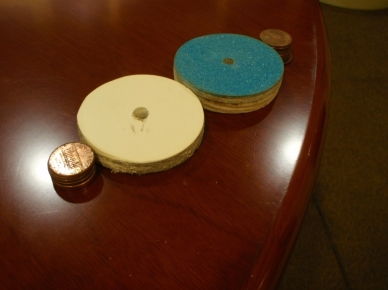 Hole saw plugs
This past summer I installed fishing rod holders and underwater lights on the back of my beloved Sea Ray Sundancer. For those of you who don't know boats, a Sea Ray Sundancer is arguably the most popular cabin cruiser ever made and definitely one of the best made boats as it was originally designed as a Great Lakes cruiser. As a fiberglass pool installer I've cut and drilled on my share of fiberglass so the plugs (or cores) I removed from the boat were almost as exciting as the new rod holders I was installing! I must say, even I was quite surprised at what I found. The overall thickness and amount of gel coating was not nearly what I expected.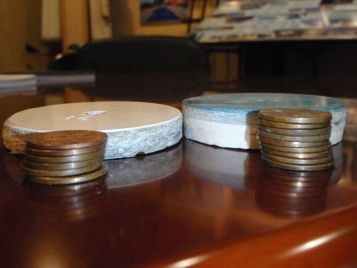 How do they stack up
To illustrate the difference in the boat and a Luxury Pool, I have placed a plug of a Luxury Pool and plug of my Sea Ray hull on a table with pennies as a sort of thickness gauge. Guess what. Despite the punishment a boat on the Great Lakes is able to withstand (8-10' waves on a bad day), the Luxury Pool plug is thicker. Notice the pennies. The Luxury Pool is 9 pennies thick or .549" while the boat is 6 pennies thick or .366". The Luxury Pool is 50% thicker than the boat!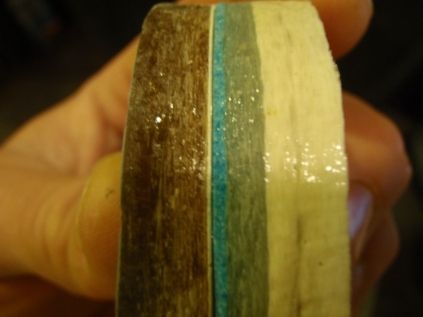 Back to Back
In addition to the obvious difference in the overall thickness the amount of gel coat was also surprising. The gel coat is the outer surface or the "color" layer of the fiberglass. Not to mention the superior quality of Luxury Pool's gel coat, how do you argue with the fact that the Luxury plug has three times the gel coat? The boat gel coat is going to be abused simply through normal use. Running up onto beaches, shallow bottoms, banging into docks and even the simple act of putting a boat on a trailer can be a not so graceful process. Why isn't there more gel coat there? The answer: there doesn't need to be. It's thick enough as it is. Rarely will you have the need for much more. Most scratches and nicks can be sanded and buffed out without much trouble. In the event that a deeper repair is needed, adding gel coat (to a boat or pool) and sanding it out is typically a modest process. The "overbuilt" Luxury Pool is just that, OVERBUILT. And, it's why Luxury Pools can offer the structural and finish warranty that we do.
This little comparison is certainly not a knock against Sea Ray. They build a quality product that is superior to most all of their competition. This is a simple observation and a statement to the quality of Luxury Pool products. How often is a fiberglass pool going to take the trauma of 8' to 10' wave like a boat? Probably never, but isn't nice to know it could?
---
1605 Shawnee Ave, Columbus, OH 43211 | Columbus
(614) 890-7665
Copyright Luxury Pools and Living 2005-2023