Concrete Detailing and Sealing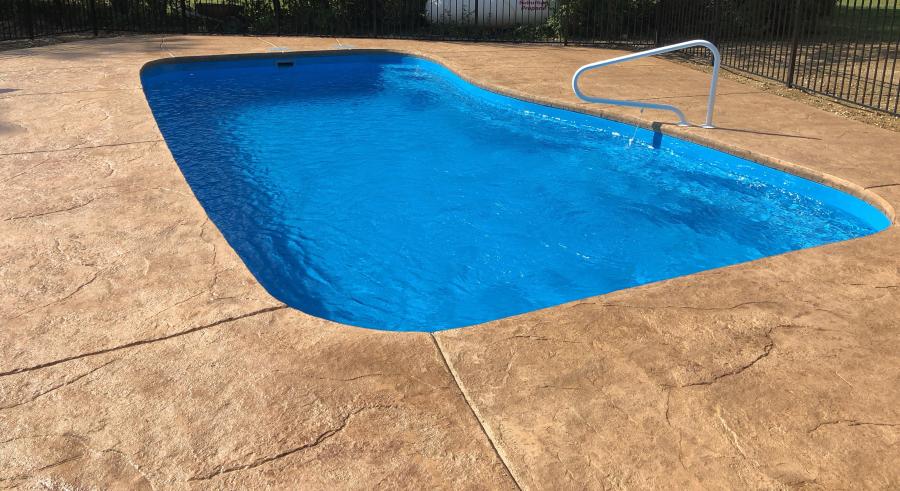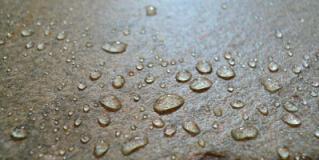 As much as we look for 'maintenance free' products, everything needs some level of maintenance. Wood decks, paver patios, and even concrete. Concretes primary maintenance task is sealing. It should be sealed about every year and a half to two years. Many concrete contractors recommend sealing decorative concrete every year because it DOES look nicer and definitely protects the concrete. If we were talking about concrete anywhere else except around a swimming pool I would agree. Sealer when applied annually can build up and become very slippery and possibly dangerous.
Our main concern is that water is kept out of the slab. You can get a sense of this by watching how the water beads and rolls off the slab. It will not look like water on a freshly waxed car, but it should bead up to some extent and roll with the slope of the slab. Keeping the slab sealed and water out of the slab is how we protect it from chipping and popping. If a slab is allowing water to soak into the surface there is a chance that the moisture in the very top of the concrete will freeze and pop off during winter. This is sometimes referred to as spalling.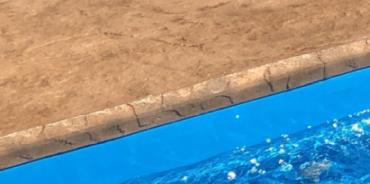 Minor areas of chipping is normal particularly around the coping. As the freeze / thaw cycle occurs here in the Midwest the slab will shift and move ever so slightly. All concrete does this. This is one of the reasons we put joints in concrete. They enable us to control where the concrete moves and cracks. The fiberglass pool does not move at the same rate and way the concrete does. It is this difference in movement that causes minor cracking and chips. Typically, a 'coping detail' is done at the same time as the concrete sealing (1.5 - 2 seasons) sort of reviving and face lifting the concrete entirely and together.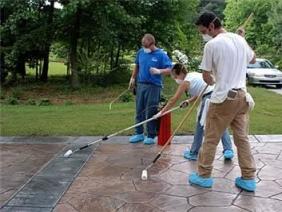 What can you do?
If you would like to seal your own concrete you will need to use a compatible sealer to what is down now. We use a solvent based sealer. There is nothing at Lowes or Home Depot that is going to work. These types of sealer are available at professional wholesale supply houses only. We purchase the raw ingredients by the drum and make our own, and would be happy to make it available if to anyone looking to seal their own slab.
Application is straightforward. The slab must be VERY well cleaned with a power washer, thoroughly dry, and not in SUPER hot conditions. Partly sunny and 75-80 is the best. Apply with a high pressure pump sprayer thin and evenly. Back role with a lint free large knapp roller in small section no larger than 6'x6'.
---
1605 Shawnee Ave, Columbus, OH 43211 | Columbus
(614) 890-7665
Copyright Luxury Pools and Living 2005-2023