Can a fiberglass pool have FEATURES? Does it matter?

The easy answers are yes and absolutely! When it comes to purchasing a swimming pool, most people first focus on size. Though size does matter features matter more. The way you and your family will use your pool will determine what feature make sense for you.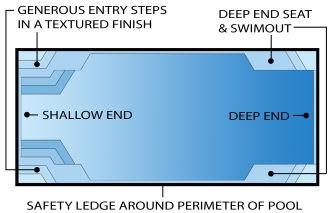 The Palm Beach has entry points at each corner
Entry points should be the first consideration. The way your inground swimming pool will be situated in the backyard and will be accessible is our fist consideration. Will you be accessing the pool form only one side or will you have space on multiple sides of the pool? If you're leaning towards the latter, multiple entry points will be very important to you.
Next is the convenience or safety ledge. All Luxury Pools feature a convenience ledge that runs all the way around the fiberglass pool approximately 24" below the water. This ledge provides a very easy way out of the pool from any location. Though only 3"-4" in size it is one of the most praised features among our clients who have owned other types of pools.
Last but not least is seating. Many people don't think about seating when shopping for a pool but seating matters. You will not always be swimming laps, playing volleyball, or doing cannonballs. There will a decent amount of time that just sitting with a beverage and taking in the day will be important. The seating area will become your favorite part of the in-ground pool.
Whether you're creating your own party central or a retreat from the world, careful design consideration and feature rich pools will be the difference between just a swimming pool and your very own paradise.
---
1605 Shawnee Ave, Columbus, OH 43211 | Columbus
(614) 890-7665
Copyright Luxury Pools and Living 2005-2023